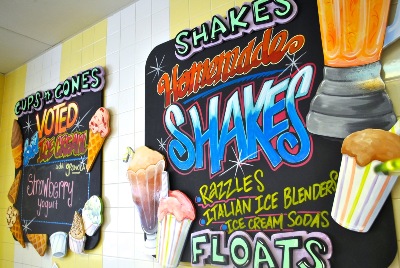 The Dairy at Lake Hiawatha has been serving the community for over 2 decades. The business was opened in 1989 by the Pascarella Family under the Carvel franchise and became Lake Hiawatha Dairy in 2000 when the Pascarellas decided to become independently owned.

We offer homemade ice cream which is made on-site daily. We offer picture image cakes and custom decorating for any occasion. We have over 50 flavors to choose from.

Last season we introduced Dole Whip soft serve. We run 2 flavors of Dole Whip year round and up to 4 during the season. Dole Whip is dairy free, gluten free and vegan. Our most popular flavor is Pineapple. I enjoy mixing the Pineapple with another flavor or with vanilla ice cream.

During peak season, we introduce Creamsicle soft serve which is a favorite. And in the Fall, we bring out the Pumpkin Pie soft serve and Pumpkin Crumble hard flavors.

We look forward to continuing to introduce new products and flavors throughout the year and we thank for your continued patronage and support.